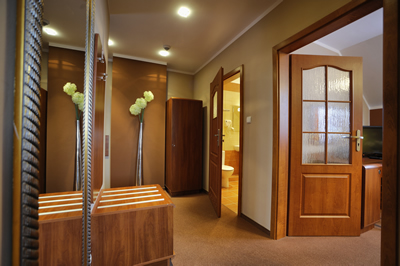 Suites and guest rooms

ROOMS
The hotel has 180 accommodation places in 80 available rooms (single, double, triple, and 4-person rooms) and 4 suites.
All rooms have their own bathrooms and are equipped with TV sets, telephones, and radios. There is a possibility of connecting to wireless Internet in the rooms.
The rooms' interiors are tastefully furnished which enables you to relax and have a good rest. The rooms are decorated in soft colours, mainly cream and salmon-pink, which give the impression of warmth and harmony and bring out the charm of the interior. The hotel has also 1 room suited for the needs of the disabled, as well as wheelchair ramps in each building.
We offer accommodation price discounts for organized groups.

SUITES

We offer 6 suites of different surface. They are adjusted to be single, double, or triple suites. The suites are perfect not only for people visiting Slubice on business, but also for families who visit the place as tourists.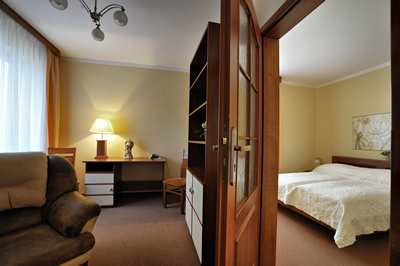 PRICE LIST
ROOM
COST
Single room
185 PLN
Double room
230 PLN
Triple room
270 PLN
4-person room
310 PLN
Superior
320 PLN
Suites
440 PLN
Breakfast is not included in the price.
The cost of breakfast for 1 person - 35 PLN

For hotel customers - the sauna and the salt cave are free!