Training center for your company
CONFERENCE ROOMS
You can find a perfect venue for conferences and trainings only 2 kilometres away from Slubice-Frankfurt (Oder) and Swiecko border crossings.
Our conference and banquet room that can hold up to 40 people, together with a good hotel and restaurant base allow us to organize various kinds of meetings, conferences, and banquets. The cost of organizing a training (i.e. renting the room, a coffee break, dinner for the participants) depends on the menu that you choose.
The gross price of renting the room - 300PLN a day.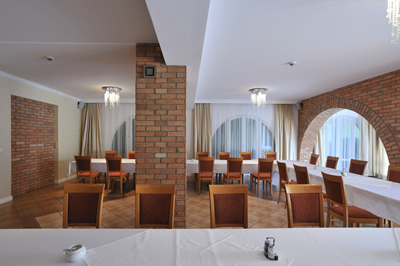 COMPREHENSIVE RANGE OF SERVICES
In addition to a spacious and comfortable restaurant room, we also offer a full range of catering and hotel services. We host a wide range of company events and business meetings. Our conference and training center is a perfect location for those planning both formal and informal business meetings.

It is our mission to provide you with highly comfortable conditions to match all of your work- and relaxation-related needs. Please do not hesitate to contact us to receive a personalized quotation meeting all your requirements.