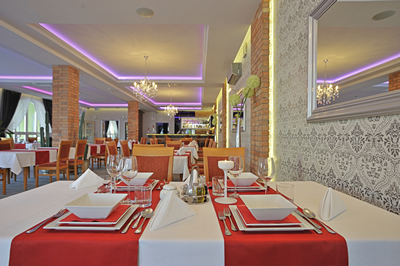 Occasional parties and banquets for companies
RESTAURANT
Welcome to our restaurant. The chef recommends traditional Polish specialities as well as delicacies from all over the world.
Friendly welcoming service and period interior are chief qualities of our restaurant. Our cozy bar is a perfect place for relaxation over a cup of coffee. We also offer a good selection of drinks, cocktails and alcohols.
Spacious interiors that can hold up to 120 people allow us to organize banquets, receptions and other celebratios. Our offer enjoys popularity thanks to the hotel's chief asset: the complex's location outside of the town centre.
We offer catering services.
The restaurant is open everyday from 7 am to 11 pm.
WEDDING RECEPTIONS AT A BEAUTIFUL LOCATION
We all know how important this special day is for the Bride and the Groom, but also for their guests. That is why we make sure that no detail remains overlooked on that unforgettable occasion. Our offering includes the assistance of highly professional and supportive staff, exquisite taste of the dishes served and a family-like atmosphere. The great ambience of our restaurant will definitely contribute to turning your dreams of a beautiful and romantic wedding into reality.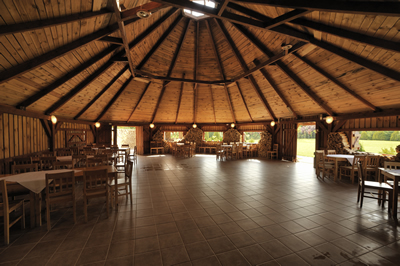 GRILL HOUSE
The grill house located at the back of the hotel, with a spot for a bonfire, is a great attraction for our guest. It can hold up to 130 people.
It is an attraction for both tourist groups that want to have company integration parties and social gatherings by the bonfire organized, and for those who simply prefer something else than traditional reception at the table in a restaurant.
It often happens that the newlyweds decide on having the wedding reception organized at the restaurant, and the continuation of wedding reception - in the grill house. The casual atmosphere in the grill house makes the event exceptional and unusual.
The cost of renting the grill house - 200 PLN.