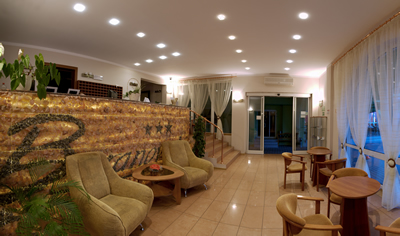 Restaurant and Baranowski hotel in Slubice

Baranowski Hotel is situated in Slubice, about 2 kilometres away from Slubice-Frankfurt (Oder) border crossing, and 2 kilometres from Swiecko border crossing. The hotel's chief asset is its location by the A road to the West of Europe. The hotel, set up by Tadeusz Baranowski, has existed since September 1, 2000.
The hotel provides high-quality services. It also meets the requirements of the rooms' standard and equipment. For that reason, we were granted the status of a three-star hotel (***) in the year 2001 by the Provincial Governor of the Lubusz District (wojewodztwo lubuskie), the decision number 43/2001.
The hotel complex consists of 4 buildings with 80 rooms altogether, a conference room, a restaurant, a sauna, and a salt cavern. The perfect location combined with quality service and top equipment make our hotel an excellent place for business meetings and social gatherings.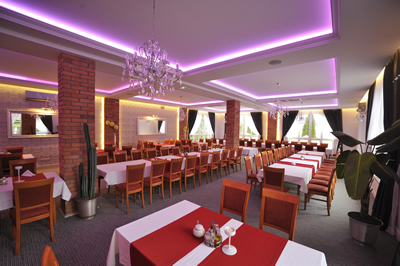 Banquettes, receptions and events
Our restaurant, seating up to 120 guests, will definitely be a perfect venue for your wedding reception, company event or banquette. The spacious, fully equipped interiors are not the only advantage of our offering, as we are also capable of rendering a comprehensive range of catering and hotel services, matching the needs and tastes of all our guests.

The conference room (with the seating capacity of 60 people) is an ideal venue for holding training courses and business meetings. The cost of a training session (including the room booking fee, refreshments served during the coffee break and lunch for the participants) depends on the menu ordered. The hotel guests are also offered complimentary use of our parking lot, sauna and a salt cave. Long-term parking facilities are also available against an additional charge. We also have 2 places for charging electric vehicles.

The perfect location, highly professional and helpful staff and a wide range of services offered have earned our hotel, over the years, the reputation of a perfect venue for family reunions, receptions and business meetings.